It's been a hectic day - standing by the roadside playing I-spy for the sake of the observational study - can be quite tiring especially when we have to stand under the afternoon sun for up to 3 or 4 hours.
And then when you arrive home, you need to key-in all that data - up to 1800 cars per day - and Excel can sometimes be a pain in the arse. And on top of that, complete the daily log and write a short report for each day.
Learn how to use SPSS, read up for the Physiology quiz - I think my physiology seems to have rusted quite a little (and so the need to go through Guyton - again)
And then there are the articles I need to complete by the end of this month for the July 2014 issue of The PEN - about 4 in total.
My table is starting to look like: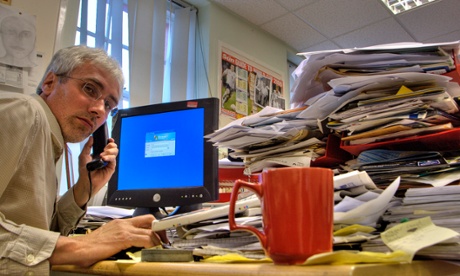 Yeap, but without the coffee mug. I am kicking the coffee habit for the next 3 months - until my new semester begins in September.Till then, I don't wanna smell even a whiff of Nescafe!
So, yeap, my day begins early - at around 5 am - because I need to finish keying-in data for the previous day, and then quickly browse through Google Maps to check out the perfect locations to plant ourselves for the observational study.
And then go for a quick jog.
Then it's the observational study from as early as 8 in the morning right up till 5 or 6 in the evening; and then the day's not over yet because we need to transfer all our 'I-spy intelligence' to Excel. This can take up to 3 hours to key-in and double check 1800 cars and 500 over motorcycles on average per day. We need to reach up to 10,000 vehicles and above in order for the study to be significant.
And the fact that the Klang Valley is about to experience a severe haze is not helping.
At around 9 at night, it is time to begin drafting the research paper - reading up various articles on accident rates, careless drivers, lack of awareness in the usage of restraints and etc. Interesting to note that for a small nation like Malaysia - we have one of the highest mortality rates due to RTAs in the world. I am not surprised, given that nearly half of all the cars I observed weren't wearing their seat belts - and there was a sizeable portion of vehicles which had 'back-seat parties' comprising of unbelted kids dancing to their boom-box unaware of the danger they've placed themselves in.
By 11, I'm already feeling so dead tired - but then again, I need to stay up in case my beloved calls to discuss some matters pertaining to studies. And this can last till late at night. But I don't mind because my beloved is dear to me!
Then, I try to write a few paragraphs for the articles per day - and catch up on my reading because these articles ain't flossy - they're based on papers and all that, so, again reading and more reading.
So, my day ends at (give or take) 2 in the morning, And then sometimes I can't sleep - so I go for a drive. At night - yeap - but it's fun because you get to own the entire road. And I'll just sit by the lake and talk to my beloved. My beloved listens to me, even when I decide to 'call-up' at such an ungodly hour.
But overall, this has got to be one of the most solid summer breaks in my life ever!
Transmission ends.
Signing out.